Traditions
Saturday, December 13, 2008
So it is less than two weeks before Christmas and the only decorations up in our house are those that my wonderful husband has lovingly dug out and put up.  He wanted to start a new tradition this year, one that his family did for as long as he could remember and that was celebrating
St. Nick's Day.
 If you know me or my family, we have a ton of Christmas traditions and I LOVE 'EM!  I think traditions are so important... they can bring memories of happier times, create lasting memories of current times, and give you something to look forward to in years yet to come.  Anyways, so we started the tradition of celebrating St. Nick this year.  On December 5, Sean masterfully hung our stockings by the fireplace (our first Christmas in a house with a real fireplace!!!  No mantel this year.... but read on!  We're gonna work on that...) and when I woke up the morning of the 6th, "St. Nick" had filled my stocking with candy, some earrings and a movie!!  (SATC~ Thx ST Nick!)  I'm looking forward to continuing this tradition when we have kids.  But for this year, Duke and Seal each got a treat.  :-)  Duke got a new toy and Seal got some snacks.  
Another tradition that we have (and have had since I can remember, too!) is that we all open ONE gift on Christmas eve.  We all know what that gift is- it is always pajamas!!  Some years they were matching PJs other years they are fuzzy comfy jammies.  The year I got married it was sexy lingerie.  But the Christmas eve gift is always pj's.  I told Sean that I was thinking about not doing that tradition this year, since we have SO MANY pajamas.  I thought we should start a new tradition of opening a new game each Christmas eve.   However, when I told him that, he was genuinely disappointed!  So we will most definitely continue that wonderful tradition.  (And since I already bought us a new board game, we will start a new tradition this year!)
Each year on Christmas eve, my family does a reenactment of the Nativity story.  We all get to play different parts.  I was usually the narrator (reading the story from the Bible) or the angel.  My sister and I would (when we were in the spirit of christmas) find costumes and gather props for the pageant.  Some years it was just my family (and it was especially great when I was 8, because that was the year my brother was born and he was so tiny- our first and only year so far to have an actual baby as baby Jesus!), other years it was a whole clan of us- friends, family, whoever happened to be at the house on Christmas eve!  One year, at my grandparent's house, my grandpa decided to be a sheep and my grandma wanted to be a donkey... it was hillarious!  See the great memories that can be created with a tradition!?  Yes, I love tradition.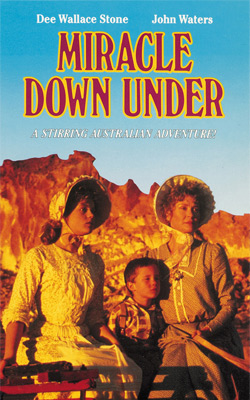 One more- when we were kids, my parents would make a big, elaborate scavenger hunt for all of us kids.  It would take us down in the basement and out in the snow, and inevitably the end prize we had been searching for all along was a new Christmas movie.  We'd all go change into our new Christmas pajamas then watch the movie.  My family has always watched this movie called "Miracle Down Under."  It is an old-ish movie (meaning we watched it when I was little, so that makes it only old-ISH) and we used to have it, but lost it somewhere along the way.  One very special year (not too long ago), my Mom found that movie again!  You can imagine all of our delight when we found THAT movie!!!  We got a lot of the classics; one of my favorites was the McGee and Me "Twas the Fight Before Christmas."  Truth be told, I had a crush on the kid that played Nick in those movies.  There are always great new and old Christmas movies to be seen, and in my opinion, you can never own too many Christmas movies.  You never know when a good Christmas movie will come in handy throughout the rest of the year (like during those LONG, hot, California summers!).
We have a lot more traditions in my family, and I'll probably write more about them later, but that's enough for now.  I love being married because we get to combine two lifetimes of tradition and make up our own new ones!  Its so much fun!
Traditions are fun, and I love them.  I am all about adding new ones as we have kids and add to our family and as our lives change.  I think its fun!  So now its your turn... what traditions do you have?  Do you know where the traditions started?  What is your favorite tradition?